Reading time: 3 minutes
Here at vipHomeLink, we're obsessed with house apps. We love to decorate for holidays, organize our home's important documents, and make sure we're on schedule with our maintenance calendar. You can complete these (or get inspiration to do so) through an app, but not all home apps are worthy of a space on your phone or tablet.
Read on to find a list of our favorites that deserve to be page one on your device.
Houzz for home design
If you are a home decorator at heart, this app is for you. Houzz provides photos, videos, and stories for room inspirations. How about a 26-foot rock climbing wall in your living room? Or a kitchen that can fit a wheelchair? Houzz has it. And if you find a piece of furniture or a fixture you like for your house, you can buy directly in the app. Not sure how furniture will look in your space? Use the augmented reality function to see the design in your room at home.
2Do for list making
While vipHomeLink sends you reminders and recommendations for home maintenance, we know you have a lot going on. Fitting in your home tasks with your work tasks and your family's schedule can be challenging, but 2Do can help. This extremely customizable app allows you to create different list categories to keep your home tasks, work tasks, and school tasks separate, or you can combine them in projects and smart lists.
There is also a section for quick notes, where you can jot down thoughts and ideas before you forget them (as we all do). While there's a slight learning curve, 2Do is easy to master and made for speed. It is the perfect app for moderately to insanely busy people on the go.
Cozi for family management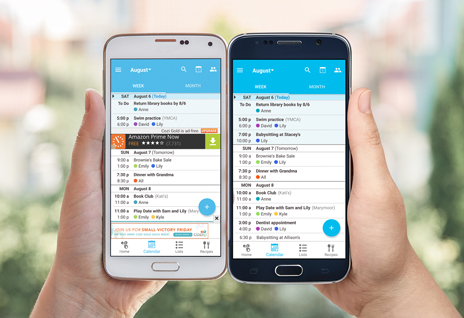 The award-winning Cozi keeps your family organized with all your plans in one place. Working with Google, Apple, and Outlook calendars, this app gives family members the same password to access all calendars, to-do lists, and even recipe ideas. Upgrade to Cozi Gold and you can share shopping lists, a monthly view, and birthday reminders. With one glance at Cozi's app, everyone knows what they are doing and when, including your home's routine maintenance or holiday decorating. You'll never hear, "You didn't tell me about that," again.
Wink for smart home technology
Connect all your home appliances in one place, on one website. The Wink Hub 2 connects to most smart home devices, and the app lets you set your thermostat, unlock your doors, raise your blinds, open garage doors, whatever you use smart home technology for.
So if you left your lights on, no worries! You can even turn all your home lights off in one swipe. What happens if a leak occurs? Stop any flooding with the Dome Water Main Shut-Off Valve with leak sensors. Worried about your home? Don't be! With Wink, security is paramount, and they have installed new hardware mechanism to prevent tampering.
vipHomeLink home management app
At vipHomeLink, our mission is to revolutionize the homeownership experience – by empowering homeowners – to make their homes safer, smarter, and more valuable, all while saving you time and money.
When's the best time to check your roof? Have you fallen behind with your home maintenance? How do you keep your electric bill from skyrocketing during the winter months? vipHomeLink can help.
While other apps focus on the design and management of homes, our home management app tailors home improvement recommendations and home maintenance reminders specifically to your home. The Home Fitness Index helps you keep track of your progress, and our new property-specific weather alerts with expert tips help you prepare your home for whatever Mother Nature has in store for it.
The app is also a perfect place to store all your home info – your home inspection report, home inventory, receipts, even your warranty!
Give your house a home and stay on top of home maintenance with vipHomeLink. Sign up now to get a monthly or annual membership.